Our Staff
Accounting Department
Judy Byrd Tharp
Judy is the wife of Dr. Tharp and is Tharp Animal Health Care Center's Supervisor over Accounting, Bookkeeping, and Advertising.
When asked what she enjoys most about her work, Judy says, "I am personally thankful for the Center and its wonderful and caring staff. Everyone works together like an extended family. We feel very blessed to have the staff and the clients that we have. The doctors have a special love for this profession with a personal history of veterinarians in the family for three generations. Though there is a special compassion for the small animal pets and they are the main concentration of the veterinary center, I am especially proud of the fact that Dr. Tharp is truly a community veterinarian by being willing, enthusiastically so, to help 4H as well as horse and large animal owners in our community."
Education: Judy holds a Bachelor of Fine Arts degree in Illustration and Design with a minor in Advertising and Photography from Columbus College of Art and Design and has worked professionally for 25 years as a commercial artist. She also attended The Ohio State University majoring in Fine Art and Auburn University majoring in Visual Communications.
Organizational Memberships include Auxiliary to the Ohio Veterinary Medical Association where she has been recognized for donating her time and talent creating art from stationary to afghan designs for raising funds for veterinary scholarships. She also was District Representative to the Auxiliary of the OVMA, member of the Auxiliary to the American Veterinary Medical Association, lifetime member of The Ohio State Alumni Association, and a member of Chillicothe Baptist Church since 1983.
Personal life: Beyond her work for the Center, Judy is the owner of Tharp Art Studio. She has worked professionally for companies as an illustrator and designer but her main concentration at this time is oil painting and connecting with other professional artists at workshops, art shows and online. Her non-professional pursuits include photography, traveling, gardening, remodeling projects, spending time with family and since becoming a grandmother, enjoying her grandson. She also loves to serve in her church, attend ladies Bible studies and root for the Ohio State Buckeyes and the Auburn Tigers. She has a Miniature Schnauzer named Romeo and two cats, Macky and Baby.
Hospital Management
Debbie Knisley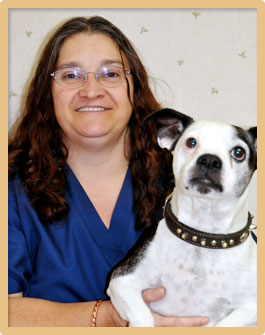 Practice Manager and Employee Supervisor Debbie Knisley joined Tharp Animal Health Care Center in 1994. She has worked in different positions throughout the Center gaining the necessary experience to become the great practice manager she is today. "We are very blessed to have Debbie on staff," says Dr. Tharp. "I have complete confidence in her abilities to see what needs to be done because of her many years with the Center and appreciate her knowledge and skills gained through her personal experiences here."
Debbie loves working with pets and with people and truly cares for the welfare of the clients and their pets. She is especially compassionate and works well with clients over any concerns they might have. Debbie's responsibilities are varied working in various capacities and wherever she is needed. She can always be depended upon to keep the business operating smoothly. She is very respected by the clients and also by those that work with her on a daily basis.
When asked what she likes most about her work, Debbie says, "Being able to work with animals every day is really a dream come true for me. I also enjoy the fact that we feel like family and work with very caring doctors for the pets, owners and employees. We also have the greatest clients!"
Debbie is married, has two grown daughters and enjoys spending free time with her grandson. Having a love for pets, she has rescued many. She has two Boston Terriers, Tucker and Lita, two Chihuahuas, Nacho and Chico, a Yorkie named Little Bit and a Blood Hound named Sage. She also has rabbits, chickens and a horse. In her spare time, she enjoys camping, playing corn hole and spending time with her family and spoiling her grandson.
Customer Service
Allison Howard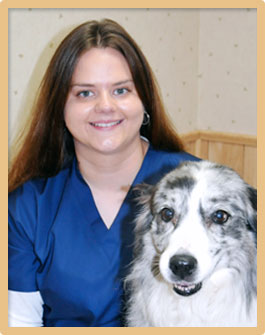 Allison began her career in the animal care field here at Tharp Animal Health Care Center in 2004. Her pleasant personality and responsible nature makes her perfect for a duo position as Receptionist and Accounting Assistant.
She is well known at the Center for being a joy to work with and is known by the clients as being friendly and caring. She never fails to greet the clients with a smile and is always ready to accommodate their needs. Allison is good at multitasking with her responsibilities extending from answering the phones, scheduling, preparing and filing charts and daily computer input to name just a few. She particularly enjoys the interaction with clients and the ability to help them and their pets in any way possible.
Allison has a natural affinity for animals after having grown up on a farm where she helped care for horses, donkeys, sheep, goats, rabbits and chickens. It is not surprising that she says she enjoys working in a practice that sees a wide range of animals on a regular basis.
Allison has the computer knowledge and bookkeeping skills that allowed her duties to extend to the accounting department as well. "We are so pleased with Allison's capabilities to hold two very important positions at the Center. She is a pleasure to work with and a valued employee," says Dr. Tharp.
At home, she has an Australian Cattle dog named Belle and three Australian Shepherds named Sydney, Logan, and Dixie. Allison's other interests include going to concerts, reading, scrapbooking, photography and helping her dad on the family's farm.
Veterinary Technician
Brittany Hartshorn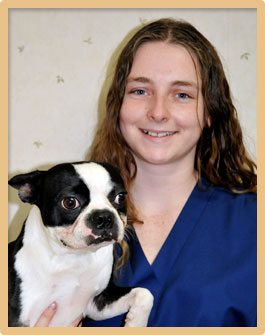 Brittany originally came to Tharp Animal Health Care Center to get experience in the animal care field while she was going to school to be a Veterinary Technician. Everyone was immediately drawn to Brittany's professionalism and sweet disposition. Upon graduation from Bradford University and receiving her Associates Degree in Veterinary Technology in 2009, Brittany joined the Center as a Veterinary Technician and Surgical Assistant.
"I love working at Tharp Animal Health Care Center because everyone is so willing to help each other out," she says. "Everyone gets along like family and cooperates to get the job done each and every day."
Working at the vet hospital has taught Brittany many things about animal care and she particularly enjoys being able to assist the doctors with the treatment of the patients and assist in their healing process.
Her love for animals is evident in the number of pets she cares for at home. She has a particular love for the 'terrier' family which includes a Scottish Terrier named Katie, Jack Russell Terriers named Bandit and Zoey, Boston Terriers named Riley and Morgan, Terrier mix named Ginger and also has two German Shepherds, Tyson and Max. She doesn't limit that love to dogs alone but has two cats Sammy and Callie and four Quarter Horses Bella, Dually, Skip and Buckshot and a Paint named Gypsy.
Tharp Animal Care Grooming Salon – Groomers
Brittany Hartshorn
Brittany is a very hard worker and along side of being a Veterinary Technician, she took a special interest in the grooming of pets as well and decided she wanted to be trained as a Groomer. After extensive training in grooming techniques and cuts, Brittany is now one of Tharp Animal Health Care Center's official Groomers. She has a great touch being a veterinary technician, very precise and her sweet nature and knowledge of handling pets works well with a pet that might otherwise become nervous during a grooming. Brittany is very particular and has a great eye for details and was very quick to learn the specifics required to be an exceptional Groomer. Being educated in the pet health field, she is very alert to notice if there is a medical issue with the pet being groomed.
Brittany is one of the sweetest people you'll meet. She is always willing and ready to serve! "I love being able to work with our caring clients on improving their pet's life in so many ways."
Amy Darling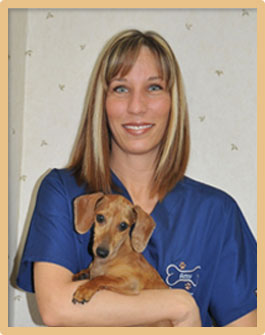 Amy came to Tharp Animal Health Care Center soon after graduating from high school and has basically grown up at the Center. Since coming to work in 1996 at the age of 17, she has married and now has a family with a husband and three children.
Amy has a very sweet disposition and is a pleasure to work with. Because of her love for animals, she was originally hired to work within the Center with Tharp Animal Care Boarding as an Animal Caregiver and with the Tharp Animal Care Grooming Salon as a Groomer's Aid. With her skill and love in working with pets, in 1999 Amy became trained to be an official Groomer in specific breed and custom cuts.
She has done an excellent job over the years at Tharp Animal Care Grooming Salon and takes great pride in the outcome of your groomed pet. After working at the Center for 14 years and with the birth of her third child, Amy took off one year but missed her work family here and to the joy of Dr. Tharp and her co-workers has now returned. Amy says, "My fellow employees are just like extended family and our clients have truly become my friends. I've shared laughs over the joy these pets bring and shed many tears when there are concerns. Working here is an animal lover's paradise and I wouldn't have it any other way. What do I love about working here? Everything!"
Amy is very caring, reliable and gentle with your pets and has great experience in grooming and pleasing the customers. "We are very thankful for Amy and her dedication to us here at Tharp Animal Health Care Center and her devotion to grooming and to our clients." says Dr. Tharp.
Amy has an English Bulldog named Maggie, a Beagle/Dachshund mix named Taz and Carly the mini Dachshund. She also has a cat named Goldie, a kitten named Jasper and a goldfish named Brock. In her spare time, she likes to read, surf the web, walk her dogs and loves spending time with her family.
Groomer's Aids
Our Groomer Aids say that having this job is a great position to have! It is a very important job as the Groomer's Aid is completely responsible for the bath and brush out packages as well as assisting the Groomers in preparing the dogs or cats for grooming. This requires the dog or cat to be bathed properly making sure your pet is completely clean from head to toe as well as drying and combing out your pet's hair. They like working with the pets as they get to know each one personally and get to see first-hand the outcome of their hard work by seeing your pet's new haircut when finished. There may be some times that a pet doesn't agree with holding still so in those situations, the Groomer's Aid will hold your pet for the Groomer so that their new hair style comes out looking PURR-FECT or GRRR-REAT!
Tharp Animal Care Boarding – Animal Caregivers
Tharp Animal Health Care Center only hires those who have a special heart for pets! The Animal Caregivers are compassionate and dedicated to their overnight canine and feline guests. Having a special love for animals and knowing that the pet owner is entrusting their beloved pet to their care, they take the responsibility of catering to your pet and overseeing the kennel very seriously. Your pets basic needs are met from feeding to watering, providing clean and comfortable bedding, following personalized instructions provided by you, the pet owner, and giving your pet personal attention and exercise. They are also responsible for keeping your pet's accommodations cleaned and disinfected. The Animal Caregivers take great pride in pleasing the pet owner. Providing your pet with a safe, secure and comfortable place to stay when their owners are away is a priority at Tharp Animal Care Boarding! Your home away from home!