Pharmacy & Health Products
Our Pharmacy
In numerous acute or chronic conditions, medication is required to cure or alleviate symptoms. At Tharp Animal Health Care Center we believe that timely and convenient access to these medications is an important aspect of caring for your animal. For this reason, we maintain a comprehensive pharmacy.
Not only does our pharmacy mean you don't have to wait for important medicines for your pet, but there is a direct line of communication between the examination room and the pharmacy window. Each medication becomes part of your pet's medical record, which reduces the chance for errors and enhances our ability to monitor its use and the outcome for your pet. Tharp Animal Health Care Center is proud to offer the latest veterinary products and medications for your pet. More importantly, when you purchase products from us, you're also purchasing peace of mind that the products are safe and recommended by our veterinarians.
Refills are easy too. Simply give us a call and we can either mail them to you or have them ready at your next visit.
Health Products Store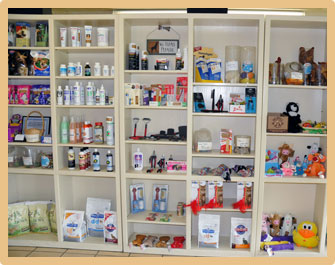 Tharp Animal Health Care Center provides a Health Products Store located for your convenience in our waiting room. Our hospital has a full array of medications available for parasite prevention either through our Pharmacy or our Health Product Store. There are many different types available and Tharp Animal Health Care Center works with you to determine which product is best suited for your pet. Some pets require special food to maintain optimum health, but all pets benefit from a balanced, healthful diet. We sell a variety of Hills prescription diet dog or cat food and prescription treats. If your pet requires a specialty diet that we do not carry, we are happy to order it for you. The staff at Tharp Animal Health Care Center is always available to help you choose the right diet for your pet in order to keep him or her happy, healthy and active. We also provide grooming products, sweaters, leashes, collars, toys and treats to meet your needs.