Caring Hands & Warm Hearts
Welcome to Tharp Animal Care Boarding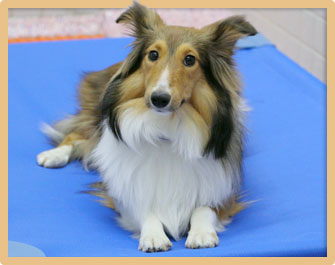 Conveniently located on the outskirts of the city of Chillicothe in a quiet country setting within Tharp Animal Health Care Center where a full range of services for your pet are offered all at one stop. Why rely on a friend to take care of your pet when you travel or are away for the day when Tharp Animal Care Boarding provides your dog or cat with an affordable, safe and comfortable place, a home away from home.
We're Happy to Provide
Large Indoor Outdoor Runs give pets plenty of room to run and play.
Outdoor play yard where our canine guest can run freely.
Climate controlled kennel comfortable for each season.
Clean and disinfected runs.
Cat condos are available away from our canine guests or you can choose an indoor outdoor run situated in the kennel in a more private upper berth where your feline can safely enjoy going outside.
We encourage you to treat our kennel as your home away from home bringing your pet's belongings (bed, toys, and treats) as these items will make your pet feel at home.
Our Animal Caregivers are happy to follow your own personalized instructions. If your pet has special dietary needs, we encourage you to bring your pet's food, also we will follow any orders such as having veterinary needs met while the pet is being boarded or for the pet to be groomed.
Each pet has a constant supply of fresh water and is fed twice a day with a quality dry pet food. If you like, you can bring your pet's own food/diet.
Our loving and caring staff treats each pet as if it were their own, which means providing your dog or cat with lots of attention, play time and affection. We understand it is stressful for them to be apart from their families and try to do anything we can to alleviate that stress.
Another added benefit is that your pet is able to receive top-notch medical attention should he or she require it during their stay.
Multiple pets in one run depend on size and hygiene of pets.
A pickup and drop off service is available to make boarding with us more convenient.
If Your Pet Requires Medical Attention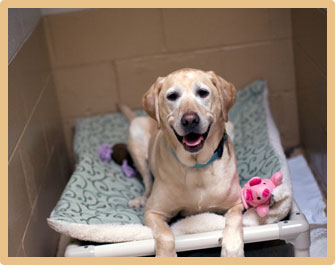 If your pet has any medical condition or has special needs, careful attention is given to keep your pets safe and healthy while you are away.
If your pet has storm anxiety, the doctor can provide a mild sedative if requested.
Our Animal Caregivers will oversee your pet's medicines and prescribed medical treatment if required daily during his or her stay in our boarding facility.
Our Animal Caregivers will carefully monitor your pet's well-being and promptly report any health concerns to our veterinarian conveniently located on the premises. Pets needing immediate medical help will be cared for according to your instructions. Any health issues are communicated to owner if at all possible unless otherwise specified. A cell phone or phone number is required. In the case of a sick or injured pet, the owner is called after the initial examination, and recommendations for treatment as well as estimates of costs are given.
Many animals come to our boarding facility because they require special care for a medical condition. In the case of conditions like diabetes, careful attention and alertness are needed to keep pets safe and healthy while you're away. We carefully check and maintain blood sugar and insulin levels as needed for diabetic pets and provide support for any other medical condition.
Complimentary Services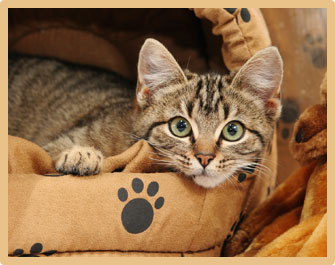 We provide complimentary food and bedding for your convenience but you may bring your pets own personal food and bedding if you wish. Pet guests receive a quality brand dry pet food during their stay.
Canine and feline guests that stay five or more days receive a complimentary bath. Complimentary baths include a bath, simple brush out, anal glands expressed, toenail trim and fragrant body spray. See our Grooming Salon packages for more involved baths and grooming at a discounted price for boarding clients.
Dog-Gone Good Discounts Available
Discounts for Multiple Pets – You will receive a discounted price when you have more than one pet stay together in one run. Multiple pets in one run depend on size and hygiene of pets.
Discounts for Multiple Services – SAVE $ for using more than one service during one stop! We know how busy life can be and how valuable your time and pet are. Why not take advantage of your pet's stay with us and conveniently schedule your pet for another service(s) at a discount price?
Veterinary Services – Veterinary services typically scheduled are vaccinations, orthopedic consultations, pre-anesthetic workups, radiographs, sick pet examinations, diabetic monitoring, surgical or dental procedures, and many more.
Grooming Salon Services – Be sure to schedule any grooming salon services in advance when making your boarding reservation during our busy summer season or during holidays. We will try to accommodate you the best we can depending upon openings being available.
Kennel Requirements
Reservations are preferred. Please call in advance during the busy summer season and holidays to assure your pet has a reserved run.
A cell phone or phone number is required where you can be reached in case of an emergency.
For the protection of your pet and others, pet's vaccinations and heartworm tests must be current and administered by a veterinarian. Your pet must also be free of fleas and ticks. If your pet requires a vaccination, we are happy to vaccinate your pet for a small additional fee.
Hours of Operation
For RESERVATIONS, please call (740)772-2226
Weekly and weekend drop offs and pick ups are available.

Drop Off:
Weekly – during regular working hours of hospital M-F 8:00 - 5:30pm
Weekend – Saturday morning 8:00am - 12:00pm
Sunday morning – 8:00am
Sunday afternoon – 4:00pm - 4:30pm
(Must schedule appointment for Sunday drop off)
Pick Up:
Weekly – during regular working hours of hospital M-F 8:00am - 5:30pm
Weekend – Saturday 8:00am - 12:00pm
Sunday Afternoon – 4:00 - 4:30pm
Our boarding facility is open whenever the hospital is open, and specific pick up times are available on Sundays by appointment.