Diagnostic Services
Radiography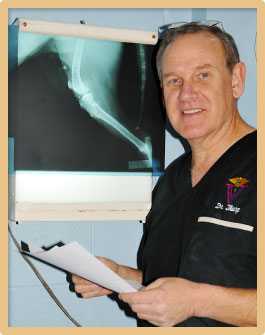 Radiographs (X-rays) are extremely helpful for diagnosing and monitoring many medical and surgical conditions. X-rays are useful in examining your pet's bones, lungs, heart, abdomen, oral cavity and other areas of the body. An X-ray can spot a fractured bone, detect tumors, help with the diagnosis of heartworm disease or locate an obstruction or foreign body(toys, bones, etc.) in your pet's intestine or stomach. Radiographs are often one of the first tests performed on your pet as the procedure is painless and can often provide an immediate and conclusive diagnosis.
Tharp Animal Health Care Center utilizes modern X-ray technologies and is up-to-date on the latest radiographic procedures. We also maintain a close relationship with a radiologist for timely second opinions.

Diagnostic Laboratory Testing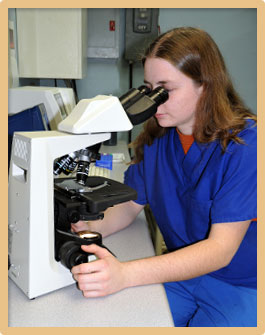 When your pet is sick, he or she cannot tell us what is wrong. Tharp Animal Health Care Center's laboratory provides fast and accurate information critical for diagnosis of a sick or injured pet. With our modern diagnostic laboratory equipment, our patients can receive appropriate treatment immediately upon arriving at our clinic.
Performing preventative medicine as well as diagnosing emergent internal health issues requires the ability to perform a wide range of laboratory tests on blood, urine, feces, and biopsied tissue. Without timely access to precise laboratory test results—blood testing, biopsies, microscopic examinations, bacterial culture sensitivity, and more—it is difficult to make an accurate diagnosis or assessment of your pet's health.
Our laboratory is capable of processing many different tests, including complete blood counts (CBC), full blood chemistry profiles, thyroid and cholesterol testing, parasite identification to detect the presence of heartworms, roundworms and other internal parasites; bacterial and fungal cultures, and viral screens. We are also able to perform pre-anesthetic blood testing the day of your pet's anesthetic procedure. The information we obtain from these pre-anesthetic screening tests can greatly reduce the risks associated with anesthesia and surgery.
We also maintain a close collaborative relationship with a laboratory for more complex testing. We generally will receive results within 24 to 72 hours depending on the nature of the test being performed.